PD-5-40
Product No.:Equivalent: FCTSPP405PZZZ
Equivalent: FCTSPP405PZZZ
General Information
Pentair Pentek Polydepth filter cartridge PD-5-40 is the direct equivalent, replacement, alternative, analog, retrofit and analogue to FCTSPP405PZZZ.
FCTSPP405PZZZ polypropylene melt blown filter cartridge is specifically developed to provide an economical solution and nominal rating for particulate removal in prefiltration of process and water treatment, representing a highly-optimized melt blown filter technology. The unique filtration media of 100% polypropylene microfibers results in continuous graded, fixed pores which provide pre-filtration and fine filtration in the same cartridge, which ensures efficient use of the entire gradient depth of the filter, resulting in high flow rate and high dirt holding capacity.
FCTSPP405PZZZ PP melt blown filter cartridge graded-density depth structure provides maximum filtration capacity, enables the capture of more contaminant than conventional cartridges, while the rigid support fibers hold the filtration fibers firmly in place, resulting in less potential for contaminant unloading and more efficient filtration under a variety of operating conditions. TaSpun series PP melt blown filter cartridge reduces the burden of downstream process for particle removal applications in liquids
.

Features
Thermally bonded all-polypropylene construction without glue and adhesives

Highly consistent

High flow rates with low pressure drops

Wide micron retention ratings from 0.5 to 250 μm

Various configuration in lengths and adaptors
Benefits
Low extractables levels ensure the purity of the filtrate

Broad chemical compatibility for various applications

Direct and economical replacement for existing plants
Applications
Drinking water treatment

Industrial water treatment

Seawater desalination

Bottled water and mineral water

Food & beverage

Pharmaceutical

Bulk chemicals

RO system

Cooling water

Process water and waste water

Plating

Oil & gas

Water injection

Environmental etc.
Specifications
Materials of Construction
Filter media: 100% microfiber polypropylene
Core: Polypropylene (optional)
Adaptor: Polypropylene (optional)
Gasket/O-ring: Silicone, EPDM (ethylene propylene), NBR (nitrile), Viton (fluorocarbon elastomer)
Dimensions (nominal)
Outer diameter: 6.3 cm (2.5")
Inner diameter: 2.8 cm (1.1")
Lengths: 24.8 cm (9.75"), 25.4 cm (10"), 49.5 cm (19.5"), 50.8 cm (20"), 74.3 cm (29.25"), 76.2 cm (30"), 99.1 cm (39"), 102 cm (40"), 127 cm (50"), 152.4 cm (60")
Removal Rating: 0.5 to 250 μm
Purity: free of surfactants, resins, binders and adhesives.

Regulatory compliance



TaSpun series filter cartridges are designed, developed and manufactured in accordance with a Quality Management System approved by an accredited registering body to an ISO 9001 Quality Systems Standard and are shipped with a Certificate of Quality.
All components of TaSpun series filter cartridges are Food and Drug Administration (FDA) listed for food contact use in the Code of Federal Regulations (CFR) Title 21 (177.1520 and 177.2600) and conform to the relevant requirements of Regulation (EC) 1935/2004 for their intended food contact applications and USP for the Biological Test for Plastics, Class VI.
For easy traceability and identification, every filter cartridge is marked with an identifying lot number.
Operating Conditions
Recommended change-out differential pressure: 2 bar (30 psi)
Maximum differential pressure without core:
4.1 bar (60 psi) @ 30°C (70°F)
3.4 bar (50 psi) @ 50°C (122°F)
2 bar (30 psi) @ 70°C (158°F)
1 bar (15 psi) @ 82°C (180°F)
Maximum operating temperature: 82 °C (180°F)
Flow rate: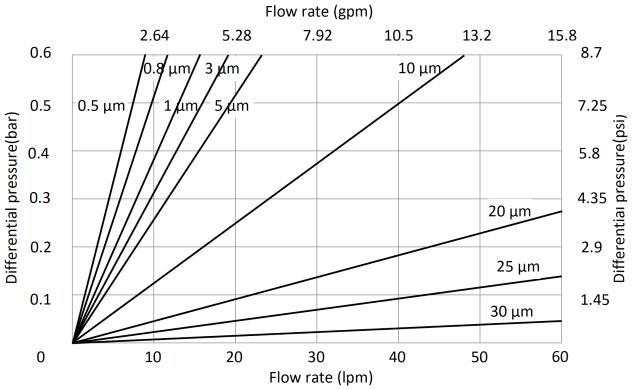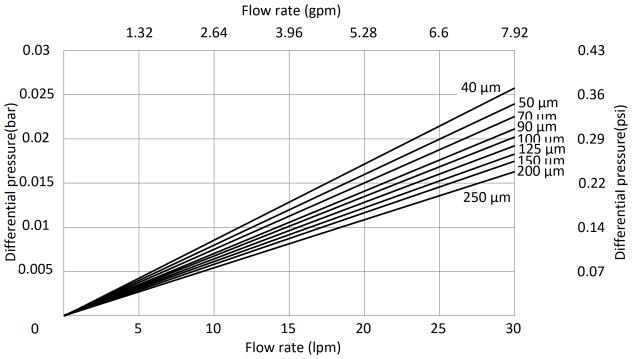 Flow rate is for a 10" (25.4 cm) cartridge with water at 20°C (68°F). For liquids other than water, multiply differential pressure by fluid viscosity (cP).
Unit conversion: 1 bar = 14.5 psi
Ordering Guide
Cartridge

Material

Nominal Length

Removal Rating

Core

Adaptor*

Gasket/O-ring Material

Surface

FCTS

PP

=PP

5

=5"

05

=0.5 μm

40

=40 μm

Z

=None

Z

=None

Z

=None

Z

=Plain

9

=9.75"

08

=0.8 μm

50

=50 μm

P

=PP core

0

=DOE

S

=Silicone

C

=Coarse

10

=10"

1

=1 μm

70

=70 μm

2

=226 O-rings with 2 locking tabs, flat end

E

=EPDM

E

=Embossed

19

=19.5"

3

=3 μm

90

=90 μm

N

=Nitrile

G

=Grooved

20

=20"

5

=5 μm

100

=100 μm

V

=Fluorocarbon elastomer

29

=29.25"

10

=10 μm

125

=125 μm

3

=222 O-rings, flat end

30

=30"

20

=20 μm

150

=150 μm

39

=39"

25

=25 μm

200

=200 μm

7

=226 O-rings with 2 locking tabs, fin end

40

=40"

30

=30 μm

250

=250 μm

50

=50"

60

=60"

8

=222 O-rings, fin end

S

=SOE, spring end
Example model: FCTSPP405PZZZ refers to TaSpun PP melt blown filter cartridge, 40", 5 μm, PP core, no adaptors.
* For more options on adaptor, please refer to Adaptor Guide from Tanal.
Contact Us
Name: International Sales Dept.

Tel: +86-27-8673 0002

Fax: +86-27-8732 0476

E-mail: [email protected]

Add: 4th Floor, Baofeng Ages, 1045 Jiefang Blvd, Qiaokou District, Wuhan, Hubei Province, 430030, China